Lupine stands for more than 25 years of quality - Made in Germany
We develop and manufacture all Lupine lamps exclusively in Germany. The majority of the individual components are manufactured in Germany or neighboring European countries specifically to achieve our high standards of performance and durability. That's the way we're able to achieve our unique quality.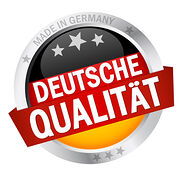 LED pioneers
We were one of the first companies, which switched from halogen lamp to LED technology completely. Thanks to this advantage of experience, and our never-ending perfectionism, we can coax more light out of our lamps year after year.
The entire evolution of Lupine lights you find at the light test or in the Lupine-shop upgradecheck .

Leader in Technology
1900 Lumens at a Piko and up to 7200 lumens out of the Alpha! These are values that were considered absolutely impossible two years ago. Only by technical progress and development of our electronic components we have come to what we are today: a technology leader in bike and outdoor lighting.

Utility is king
Yes our lamps are really bright, but we do not build pure "lumen beasts". Outdoor lights made from Lupine are honored for various light options, simple operation and flawless workmanship. In addition, we develop own lens systems for each of our lamps in order to create the best illumination pattern for its application. Our lamps are perfected for professional use, one hundred percent.
Built for freedom
Snow? Rain ? Dirt and mud? - No problem! Whether headlamp, battery, flashlight or taillight, our lights are made to defy even the most extreme conditions at night. Our products are regularly used for racing, rescue and expeditions and have been proven themselves at prestigious institutions such as mountain rescue and police.
With the best components
From the start, we have relied solely on the newest light-emitting diodes, batteries, and best electronic components. When selecting these components, we strictly monitor quality, durability, origin and efficiency. System-related components receive a 100% inspection. All components employed have been specifically developed for our applications in order to guarantee unsurpassed product quality.
Warranty and Service
We guarantee to repair your lamp within 48 hours in order to enlighten you again as quickly as possible. All lamps have a warranty for two years, but still after this time we will always strive to find a good solution.

If you have any problems, don't hesitate to contact our motivated team. The most frequently asked questions you can find in our FAQ.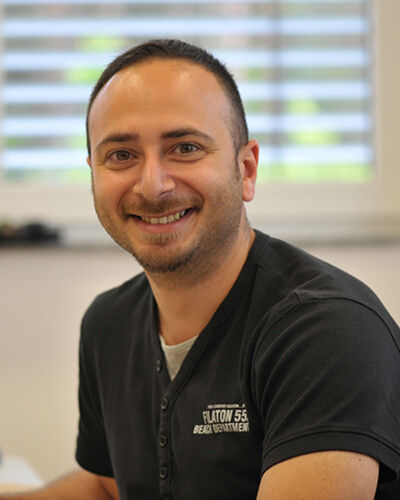 ​LEDs + optics
Optimal coordination

The lens systems of our lamps are not designed by standard components, but rather specially developed optics by Lupine. So we guarantee: all the light is where you need it, simply on your trail.
Perfect light focus
Only by our specially developed lenses, the light is used to one hundred percent where you need it. In order to optimally illuminate the distance and near zones, several individual lenses have been arranged in order to form a perfectly matched system. So we have been created luminous images, which are perfectly suited to its task as bike and outdoor lighting.
Minimized loss
By high-precision plastic optics made of pure polycarbonate we reduce the rate of loss to a minimum. The accuracy of precision injection procedure is a few micrometers. This is less than one tenth of a hair diameter. Our lenses and reflectors became the reference standard for all other manufacturers.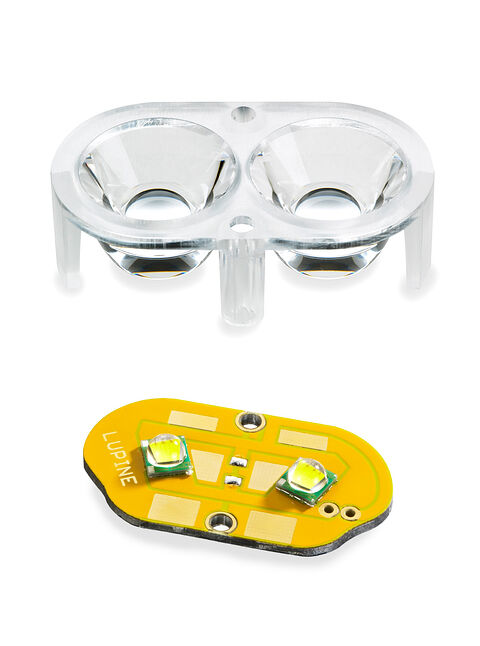 Aluminum housing
We exclusively shape our lamp heads from high quality aluminum alloys. All housings are made of one piece of aluminum, CNC milled.
So we achieve extremely precise fits, but can produce aluminum bodies, which are extremely lightweight and extremely stable at the same time.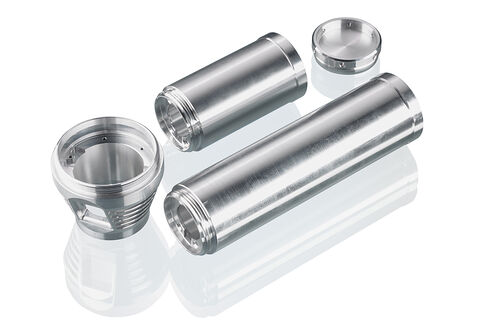 PCS
The PCS is more than a simple on and off switch: Here the true heart of each lamp is beating. The technology developed, which we use in the electronic switch ensures optimum brightness, temperature control and super bright light, even from a weak battery. It protects the lamp head also from overheating or electrical damage and guarantees the maximum possible light output (depending on temperature).
Colored display LEDs in blue, green and red precisely inform you about the current operating mode or remaining capacity of the battery.

​Battery technology
Accumulators basically have to be seen as a consumable item and can not be used indefinitely for physical reasons. But here we do our best to ensure durability, safety and maximum performance.

Protected charge
Lupine Li-ion batteries are completely waterproof, impact resistant and equipped with their own protection circuit board (PCB), which protects the battery against faulty charging currents, deep discharge, short circuits or other defects.
Optimal coordination
We have been developed and produced the PCB by ourselves. Because we value the security and reliability is extremely important, we have all these electronic components been produced in Germany. To ensure optimum performance under all circumstances, we use a specially designed processor and check each individual board to 100% on its ability to function.
Best quality
We always use the best available batteries available at the market. The "best" is not only determined on the capacity, but also on the reliability and durability. Unlike batteries of third-party manufacturers, Lupine users expect a lifespan of 4-6 years. For this reason we use the best, selected 3400mAh cells from Panasonic. We do not use cells made in China. The cells we use are characterized by restrictive selection, a high energy density, low self-discharge of a maximum of 10% in the year and cold resistance down to -25 ° C. Because the lifetime of batteries is to be considered from the time of production, we pay attention to a fast, direct transport line from Japan to Germany.
Capacitance values
In addition to the industry standard, our capacity figures have (up to 8A) been determined under realistic conditions in each case the lamp is typically used. This results in lower values than those proclaimed by all other providers data sheet values, which are determined with unrealistic, very low power loads. Again, we allow us a much more realistic measurement technology to indicate traceable values in practice. New batteries exceed our specifications always clear to remain even after prolonged use of 2 years or within our specifications.
Quality control
At Lupine, cells are 2-sealed waterproof and a thorough final inspection with appropriate performance and capacity control subjected each battery pack. Regular underwater tests provide the waterproof safe in the series.
Safety test
All Lupine batteries meet international UN transportation testing. Our batteries have internal, much stricter, meet our standards, but in the interest of our expectation of security, in addition. This is in particular the professional use, in which the absolute reliability is particularly important, essential.


Heavy-duty plug-in contacts
The specially developed plug contacts are highly resilient and remain confident coupled with strong shocks. However, not only in terms of manual force, but also with regard to the current load, our connector system is extremely powerful. Up to 10 amps hunt through the contacts of your Lupine.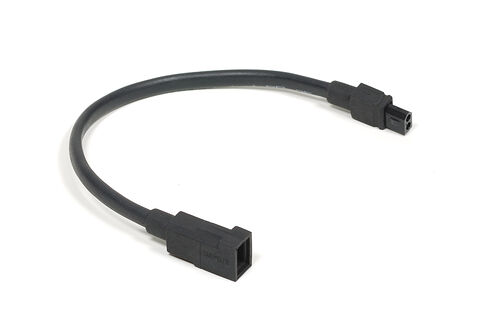 ULT cable (Ultra Low Temperature)
The cables and terminals are built for the merciless rigors and outdoor living. We use extra thick copper cable, consisting of numerous hair-thin wires. They ensure maximum buckling strength with minimal resistance. Special polyurethane insulators remain flexible even at temperatures ranging from -40 ° C to + 80 ° C.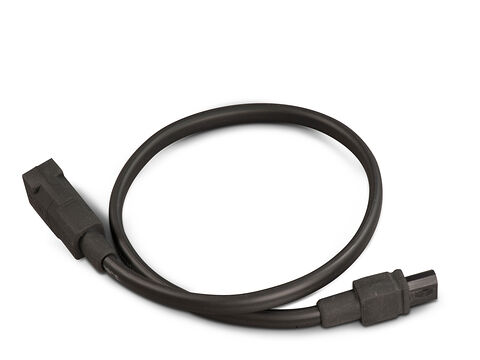 Lumen or Lux ?
We provide traditional for our lamps are no lux values. To assess the brightness of a lamp Luxangaben are of limited use, since the luminance is measured at only one point at a certain distance from the light source.
Unlike many other manufacturers measure and we check the luminosity of our lamps regularly itself. With our own integrating sphere, we determine the luminous flux in lumens. We do this in a standardized procedure in which more than a hundred measurements are made on a strictly defined period of time and the mean or median value is calculated.
The FL1Standard is one of the ANSI (American National Standards Institute) and NEMA (National Electrical Manufacturers Association) standard exclaimed to the product information of verschiedenenTaschen- and Headlamps manufacturer to make them comparable.
Every manufacturer measures and tests its products according to a clearly defined procedure. The uniform symbolization of different specifications, the products of various manufacturers are compared.
Lupine directed for several years by the ANSI measurement methods and lead in this year also the uniform labeling of products.
Beam Distance
The range is defined by the distance, in which the emitted light beam corresponds to 0.25 Lux yet. This value is measured a calibrated LUX meter with the help and in meters. Due to the very wide dispersion of our lamps here no best values are achieved in comparison to other competitors.


​Light Output
The luminous intensity describes the total amount of light emitted and a lamp is measured in lumens. The measurement is made in an integrating sphere after 30 seconds burn time. Light output in this standard is expressed in units of lumens. We do the measurements in-house with our own integrated sphere.



Impact Resistance
The shock resistance of products is verified by a repeated drop test of one meter onto a concrete floor.
In order to pass the test five same products thereby meet six times from different angles the concrete and must not show any visible cracks thereafter.


Run Time
The runtime according FL1 standard is specified. By the period the lamp is in a defined stage to the time at which the light power is reached only 10% of the initial value The start of the measurement, as well as in the lumen measurement, 30 seconds after starting operation.


Water resistance
This value indicates whether and to what degree is a lamp against the ingress of water managed. The FL1 Standard distinctively in 3 different categories:
Splash-proof (IPX4)
The test object is exposed to splash water from different directions at a certain pressure for a predetermined time, and this must be unscathed.
Water resistant (IPX7)
The test object must immerse in a water depth of one meter over a period of 30mins unscathed.
Submersible (IPX8)
The test object must emerge unscathed from a specified by the manufacturer of water depth (at least 1 meter) over a period of 4h.


Maximum brightness
The maximum brightness of a light beam is measured, irrespective of the distance from the light source in Candela and in contrast to the range. Candela = lux * (distance) ²


Bluetooth
As the first company worldwide, we equipped our led-lamps which have a "R" in their name with Bluetooth 4.0. Bluetooth 4.0 is the latest bluetooth standard, offering high power conversion efficiency and range of at least 10 meters. (depending on the battery status of your remote / Smartphone)
---
From now on you operate up to 5 lamp heads simultaneously by remote control in your hand, or directly from the handlebar - without delay, without cable and without safety risk.
---
With the free Lupine Light Control app you quickly connect your lamp with your smartphone. It has never been so easy to set your light levels, modify, or use special features.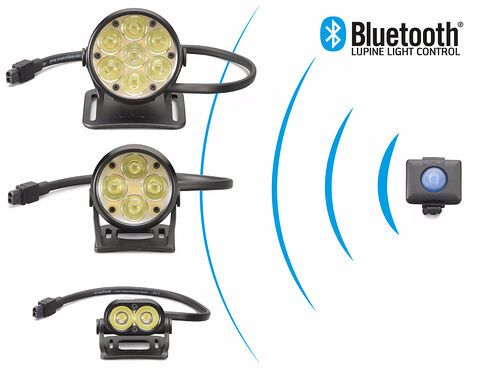 Programming
Unique in the world, our LED lighting products offer you numerous programming options, from 3-step mode with super flash up to two weeks of continuous light in the lowest possible emergency mode. However the programming and operation is very simple and can be done conveniently via the button on the lamp head/remote control or via app for your smartphone.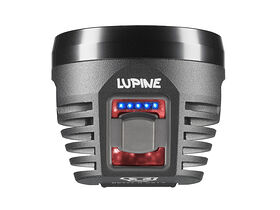 Unbeatable versatility
You´re transforming it from a headlamp to a helmet lamp, or attaching it to your handlebar via quick release in a few minutes or securely and quickly to just about any smooth surface by 3M Dual Lock. Thereby our lamps are extremely versatile, whether for mountain biking, camping, running, skiing or climbing and working. Our numerous fastening systems offer you the right mount for every application.
Uniquely compatible
You can almost combine any battery with each lamp. No matter if it is a battery of the last generation or a modern SmartCore battery - all plug connectors are based for over 20 years on the same system and are still compatible with each other, even though we have improved to the increased power level. So you could been supplied with fresh energy, even years after the purchase of your Lupine.


FastClick
With our self-developed FastClick system you carry your energy right on the head. Wether FastClick headband or optional FastClick battery holder for your helmet, clicking your battery just in the right shell and replacing it in just a few seconds against a new one has never been so easy.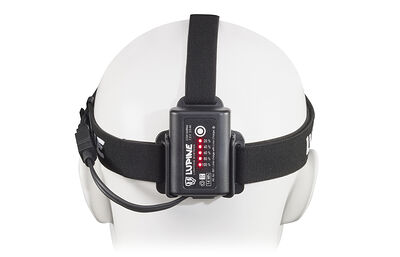 3M Dual Lock
The 3M Dual Lock system allows you for installation at almost any helmet or other objects with a smooth surface and is ideal for mounting your Lupine lamp to fullface and other closed helmets without ventilation slots (e.g. ski, downhill, enduro, dirt and safety helmets).
The 3M Dual Lock is suitable for our lamp heads, as well as for the FastClick battery holder.


SmartCore
Our SmartCore battery hides powerful and intelligent electronics. With a short press on the control panel of the integrated capacity display, the current battery level is displayed in 10% increments. The remaining capacity can always be checked, whether the battery is currently in use, freshly loaded or stored for two weeks. With one keystroke you get immediately displayed the current charging level.
But our SmartCore battery have more advantages. By pressing the button several times you switch to a taillight or running light function. The additional integrated balancing feature increases the performance and durability of our SmartCore battery.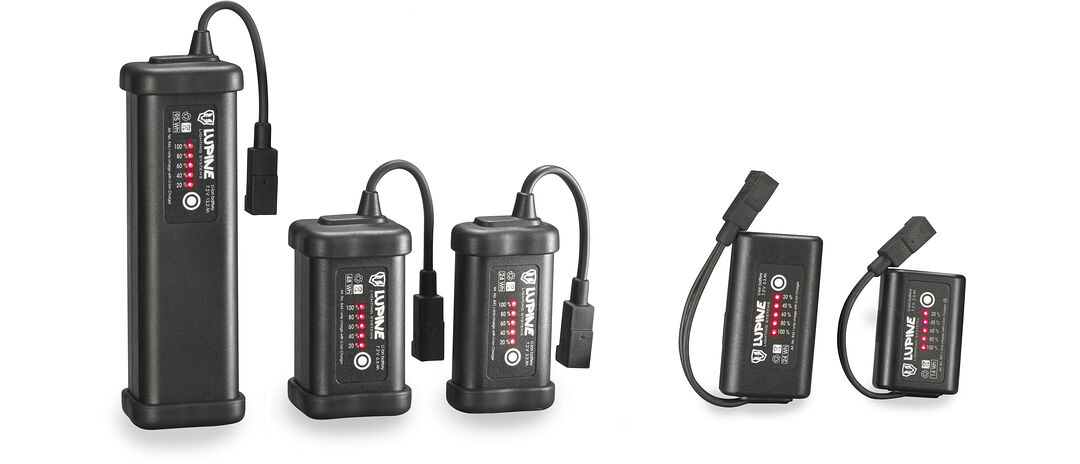 On bike or helmet
You can mount our batteries either to the bicycle frame, seat tube, or directly attach to the helmet. For this we offer several anti-slippery velcro straps of different lengths.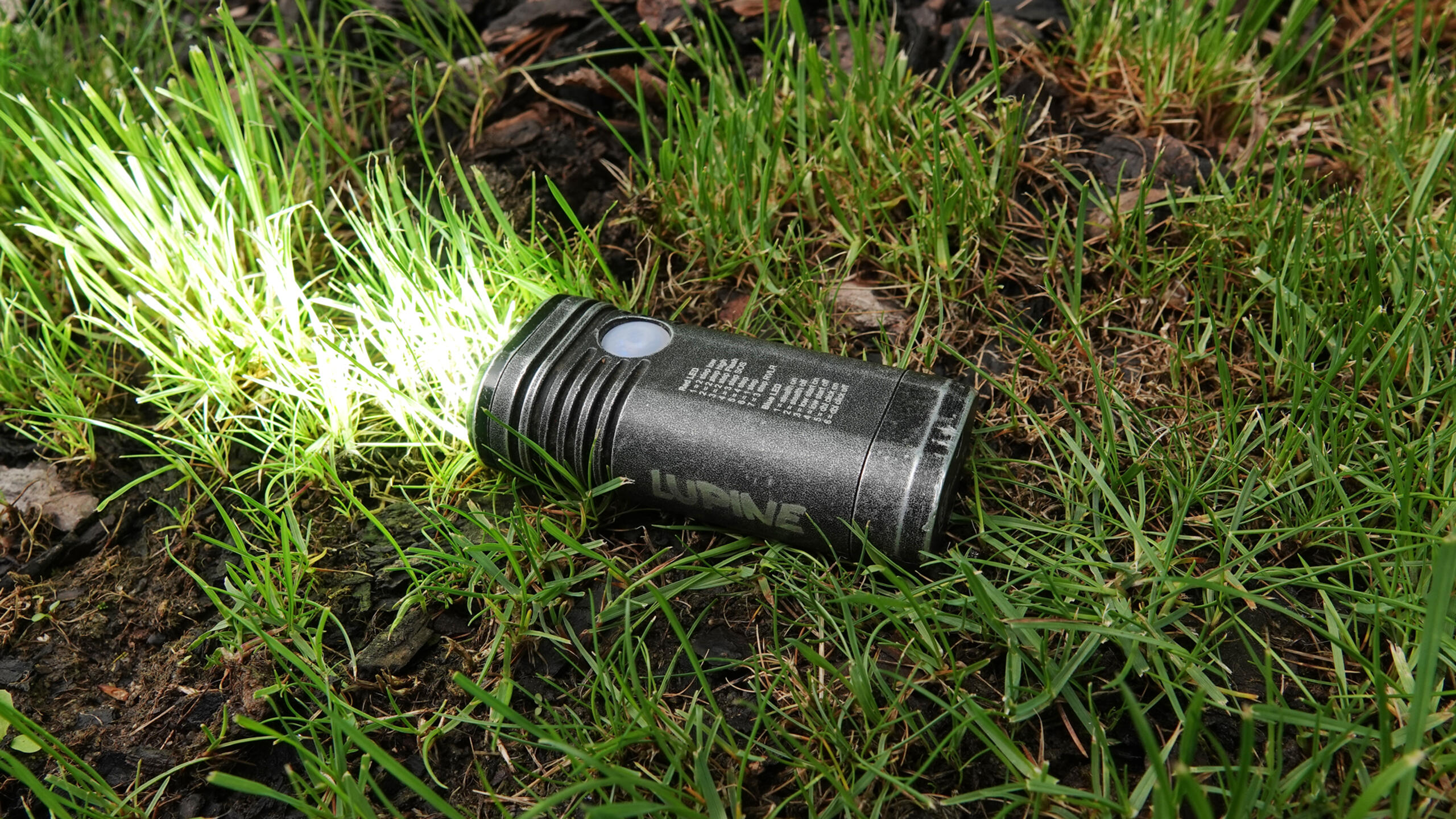 One light for years
Lupine not only stands for exceptional reliability, but also commits itself to the repairability of all lamps for an average of 10 years. Because of environmental protection and avoidance of waste are important to us.
No disposable products
The costs of repairing a device are usually much lower than to replace it. A repair does not change the quality of the product in any way, but it reduces the impact on the environment caused by waste and at the same time saves your wallet.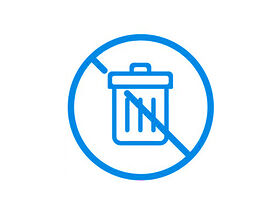 Sustainably designed
In contrast to comparable products, permanent adhesive solutions are deliberately avoided already during the development phase. Our lamps are designed to be easy to disassemble, repair and reassemble.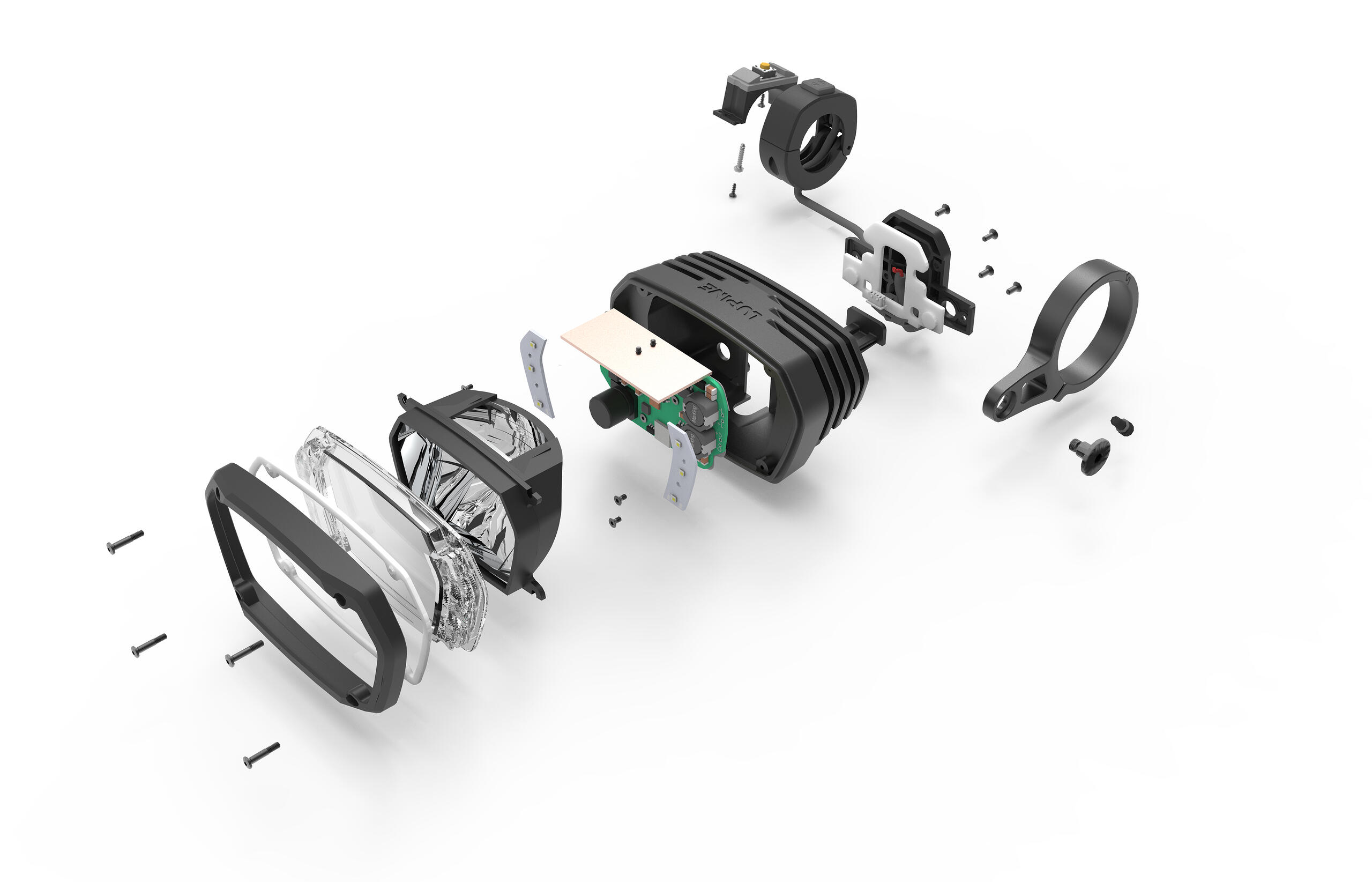 How it works
If your lamp should have a problem, just follow these steps:
- Pack your lamp, including all components, your contact details and an informal error description in one package.
- Send your package to "Lupine Lighting Systems GmbH, Im Zwiesel 9, 92318 Neumarkt, Germany".
As soon as we receive your package, our service staff will start to analyze your lighting system and will contact you as soon as costs exceed 15 Euro. After clarification of further steps, the repair of your lamp will start, which will be on its way back to you after 48 hours at the latest.
Spare parts for self installation
The battery of the red light, front cover of Betty and BTL2 and more: On some models parts may be replaced by yourself. You can find many spare parts directly in our shop.