Wolflike
A couple of friends passionately rode their mountain bikes through Bavaria's dark forests in the winter of 1989 - too dark forests, Wolf, the later founder of Lupine, thought.
"The range that was available at the time had flashlight characteristics! Even but bright light surface? Missing!"
When it comes to bikelights, it is basically not about the brightest, but to combine the brightest possible light with the most homogeneous and practical light distribution. Although there was already in 1989 a provider from the U.S. which offered a product with higher performance, but that was "sackteuer" and difficult to get. The only hope: develop something yourself.
Wolf, the founder of Lupine, therefore used pure self-interest as the driving force for the development of the first Lupine lamps. At the time, he simply wanted an outdoor or mtb lamp that would be better than anything else on the market at the time. This attitude and motivation is still at the forefront of the development of new models. In the first step, the demands on a new product are defined and in the second step we work out how to fulfill them. The budget is completely left out of the equation for the time being. This often leads to a result that seems far removed from any rationality of an economically minded company. But instead of making concessions on the technical side and saving on certain points at the expense of product quality, you implement what you are 100% convinced of. Out of passion - without compromise.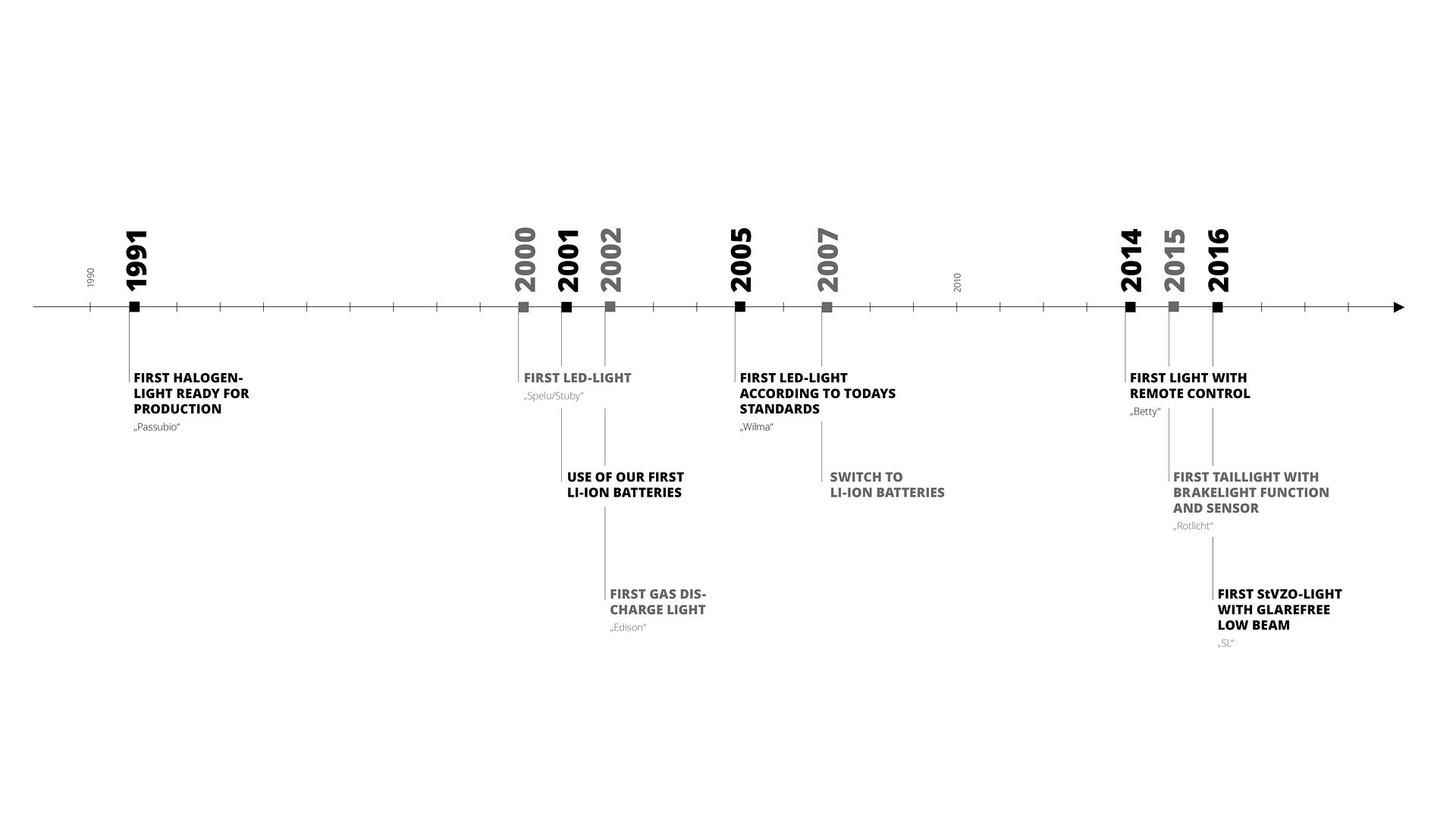 1991 - First halogen lamp "Passubio" ready for series production
Named after the Italian mountain massif with 52 long tunnels. The high-end light source at the time was enclosed in an aluminum body turned from a single piece of aluminum. For operation, the Passubio had a wiring harness whose button could be attached to the handlebar by means of Velcro. In addition, a particularly innovative and then patented handlebar mount was developed on the basis of an O-ring, which is still used today by various competitors.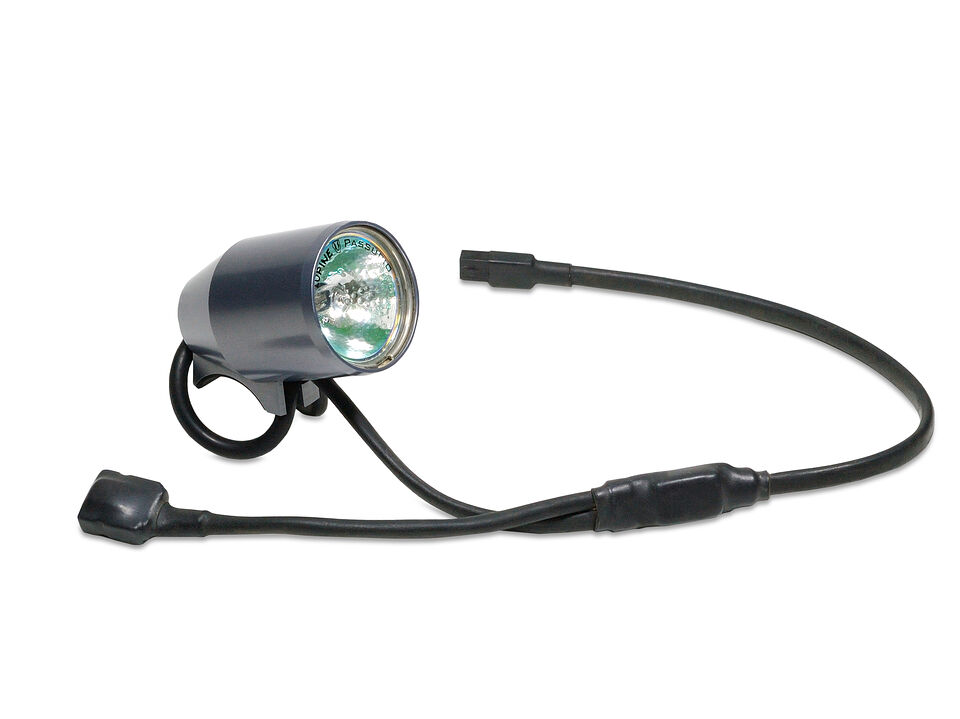 2000 - First LED lamp "Spelu/Stuby
Our first lamp based on LED. 26 LEDs shone with up to 4W in the Spelu and Stuby. At that time still quite unsuccessful, this lamp helped us to a great experience advantage in terms of LED technology. From here on, Li-Ion batteries were used in some cases and indicator LEDs were used to display the light levels, etc.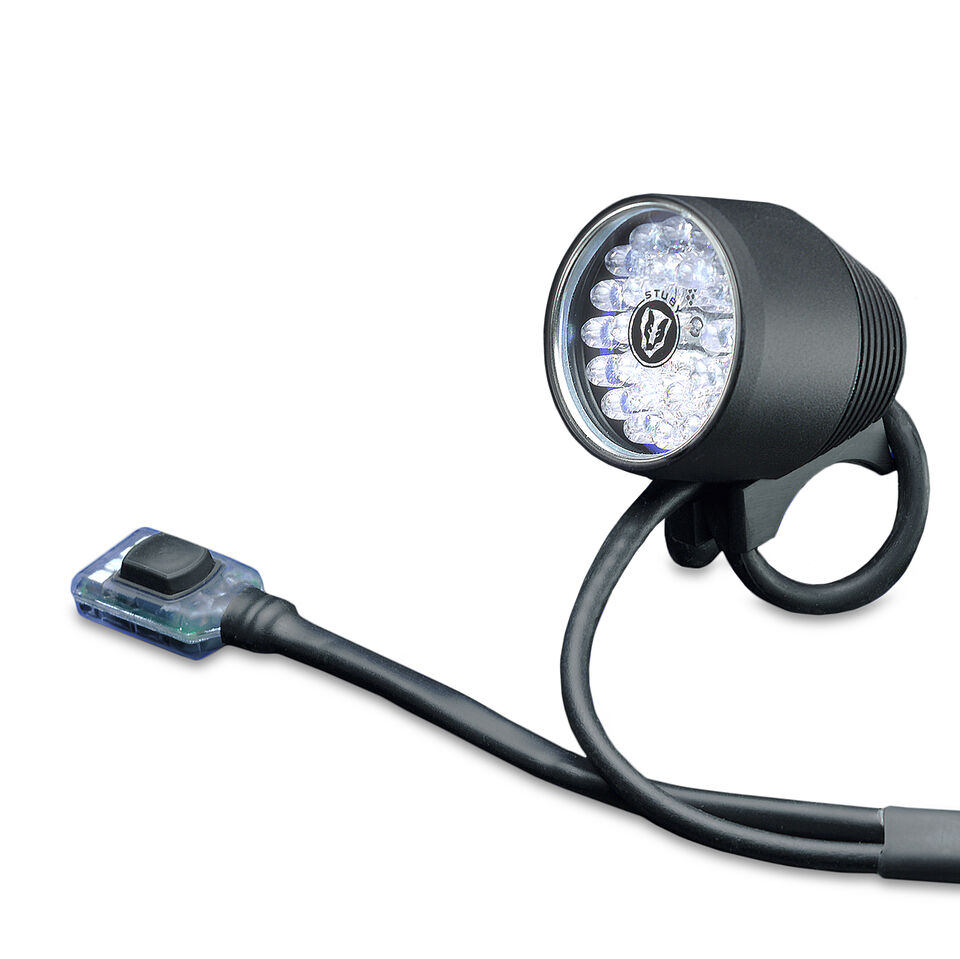 2001 - Use of first Li-Ion batteries
In addition to nickel metal hydride and nickel cadmium-based batteries, we used the first lithium ion batteries as early as 2001. At that time, these already had various advantages over the alternative battery cells, but were significantly more difficult to process and required more complex preconnection electronics. However, these challenges were soon to be overcome.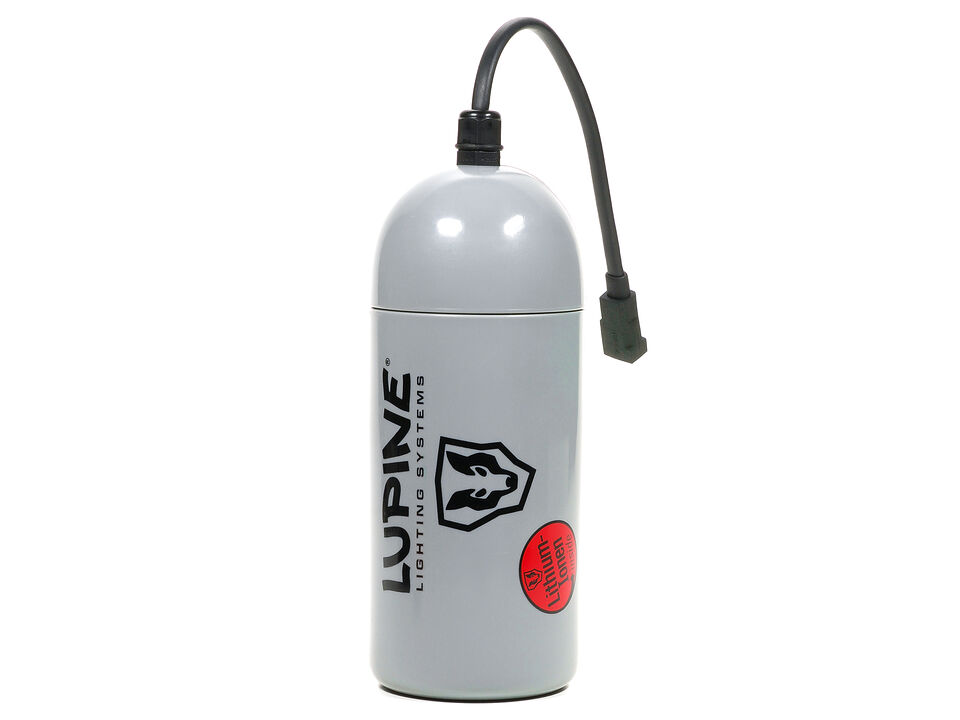 2002 - First gas discharge lamp "Edison"
A complete self-development: The then enormously powerful Edison (16W/900Lumen) seemed to us like a true floodlight. For this we developed a completely independent starter electronics and dealt for the first time with more elaborate protection electronics for battery and lamp.

2005 - First LED lamp according to today's standards "Wilma".
She was the first of a whole generation: Our Wilma had the first LED lens system as we know it today, created by ourselves. From here on, our lights became brighter, more uniform and more reliable than ever before.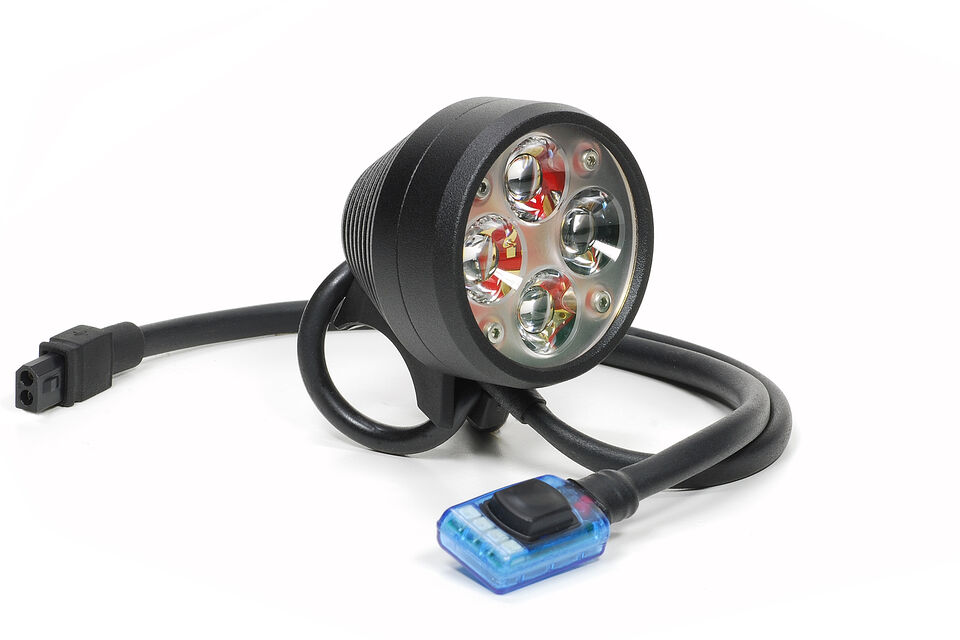 2007 - Changeover to Li-Ion batteries
While we used a range of NiMh, NiCd and Li-Ion batteries in the years before, the advantages of modern Li-Ion batteries outweighed them more and more. As a result, we switched completely to the new technology as early as 2007. This enabled us to achieve longer runtimes, longer lifetimes and, above all, significantly more power. RIP NiMh and NiCd!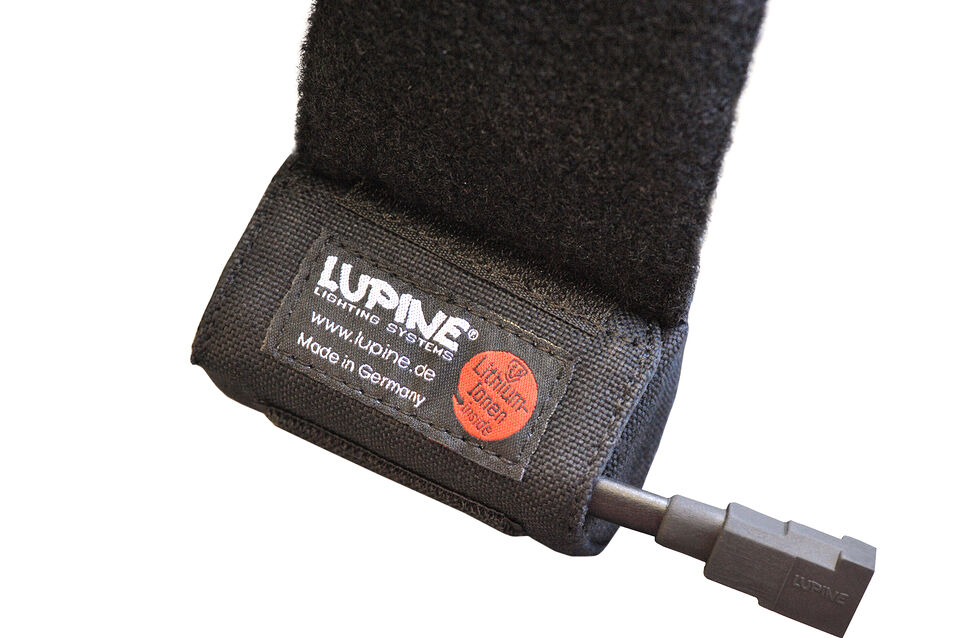 2014 - First lamp with remote control "Betty".
The technology became smaller, the button including electronics moved with most models in the housing. Therefore, the question arose of operation directly from the handlebar. For this purpose, our then top model was equipped with a radio remote control. From 2016, we replaced the radio technology with Bluetooth, the functions of which we are still constantly developing.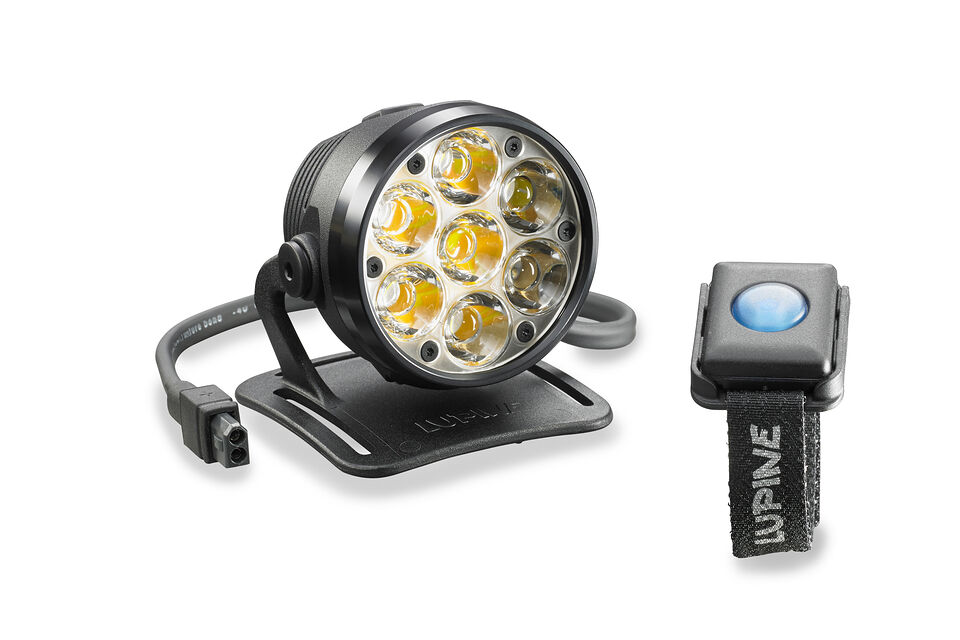 2015 - First taillight with brake light function and sensor technology
Our "Rotlicht" was probably the first taillight with a more complex sensor system and brake light function. Wolf, Calle and colleagues tinkered for a long time to find the right components and values and made this taillight so reliable that it still exists on the market today.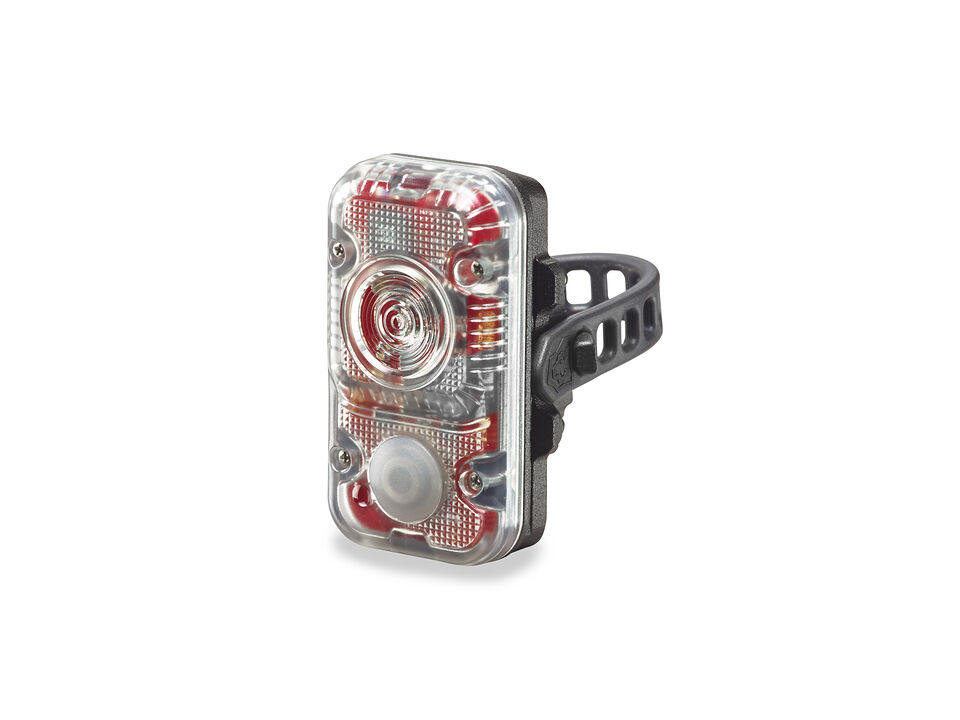 2016 - First StVZO lamp with glare-free low beam
After years of development work, we had finally succeeded in combining the technical lighting requirements of Lupine with the strict standards of the StVZO: A wide and homogeneous light carpet, enough power to exist even off the road and a glare-free low beam function. That was the birth of our Lupine SL series.