Bluetooth
As the first company worldwide, we equipped our led-lamps which have a "R" in their name with Bluetooth 4.0. Bluetooth 4.0 is the latest bluetooth standard, offering high power conversion efficiency and range of at least 10 meters. (depending on the battery status of your remote / Smartphone)
---
From now on you operate up to 5 lamp heads simultaneously by remote control in your hand, or directly from the handlebar - without delay, without cable and without safety risk.
---
With the free Lupine Light Control app you quickly connect your lamp with your smartphone. It has never been so easy to set your light levels, modify, or use special features.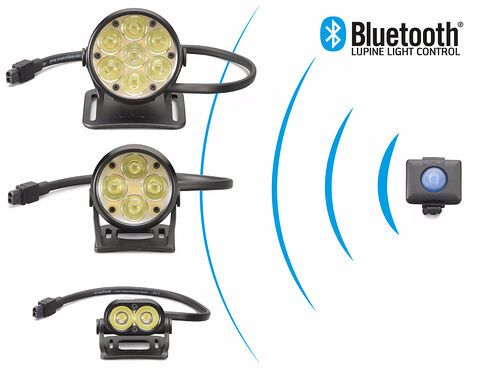 Programming
Unique in the world, our LED lighting products offer you numerous programming options, from 3-step mode with super flash up to two weeks of continuous light in the lowest possible emergency mode. However the programming and operation is very simple and can be done conveniently via the button on the lamp head/remote control or via app for your smartphone.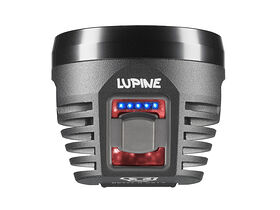 Unbeatable versatility
You´re transforming it from a headlamp to a helmet lamp, or attaching it to your handlebar via quick release in a few minutes or securely and quickly to just about any smooth surface by 3M Dual Lock. Thereby our lamps are extremely versatile, whether for mountain biking, camping, running, skiing or climbing and working. Our numerous fastening systems offer you the right mount for every application.
Uniquely compatible
You can almost combine any battery with each lamp. No matter if it is a battery of the last generation or a modern SmartCore battery - all plug connectors are based for over 20 years on the same system and are still compatible with each other, even though we have improved to the increased power level. So you could been supplied with fresh energy, even years after the purchase of your Lupine.


FastClick
With our self-developed FastClick system you carry your energy right on the head. Wether FastClick headband or optional FastClick battery holder for your helmet, clicking your battery just in the right shell and replacing it in just a few seconds against a new one has never been so easy.
3M Dual Lock
The 3M Dual Lock system allows you for installation at almost any helmet or other objects with a smooth surface and is ideal for mounting your Lupine lamp to fullface and other closed helmets without ventilation slots (e.g. ski, downhill, enduro, dirt and safety helmets).
The 3M Dual Lock is suitable for our lamp heads, as well as for the FastClick battery holder.


SmartCore
Our SmartCore battery hides powerful and intelligent electronics. With a short press on the control panel of the integrated capacity display, the current battery level is displayed in 10% increments. The remaining capacity can always be checked, whether the battery is currently in use, freshly loaded or stored for two weeks. With one keystroke you get immediately displayed the current charging level.
But our SmartCore battery have more advantages. By pressing the button several times you switch to a taillight or running light function. The additional integrated balancing feature increases the performance and durability of our SmartCore battery.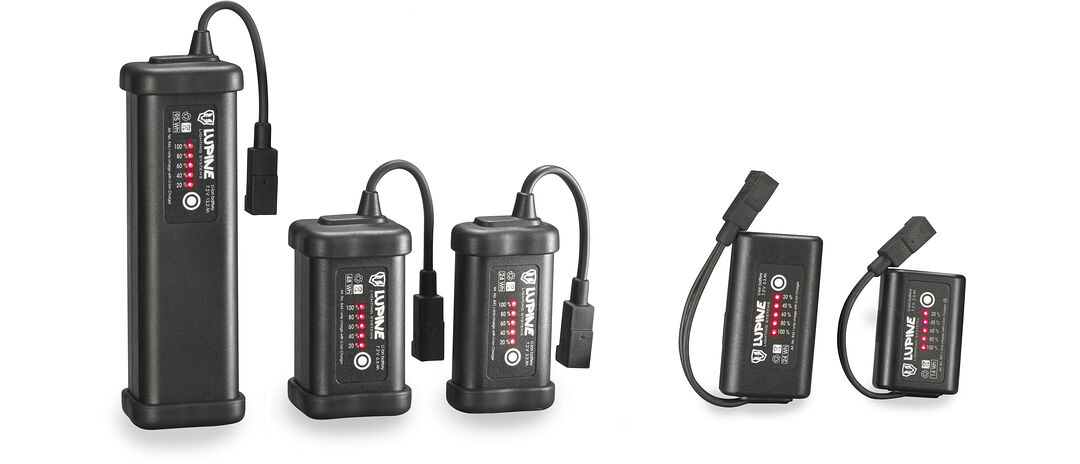 On bike or helmet
You can mount our batteries either to the bicycle frame, seat tube, or directly attach to the helmet. For this we offer several anti-slipper straps of different lengths.